The Digital Leadership Institute Board and Executive Team are actively involved in initiatives with partners and stakeholders around the world that promote ESTEAM* leadership by girls and women. Stay tuned here to find out about these activities, and please visit our calendar for upcoming events organised by DLI.
*Entrepreneurship and Art powered by Science, Technology, Engineering and Mathematics
---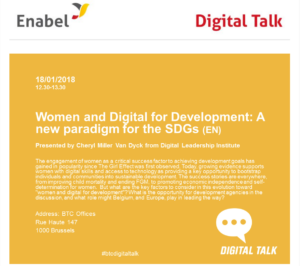 18 January – Digital and Women for development: A new paradigm for the SDGs
Ms. Cheryl Miller, DLI Founder, will give a talk on 18 January  on "Women and Digital for developement: A new paradigm for SDGs " at the BTC Offices in Brussels.

---

5 March – ISS Europe 2018 (Dublin):   In Dublin on 5 March, Ms. Cheryl Miller, DLI Founder, will contribute to a panel on "Gaining, Training, and Retaining World Class Talent," at ISS Europe 2018.
---
Be sure to visit our calendar, sign up for the DLI Newsletter and follow us on Facebook, Twitter & Instragram in order to keep up with DLI events and activities!